Phone: 941-488-1551
Email: cbcvenice@yahoo.com
Service Times:
Sunday 9:30am Bible Fellowship
Sunday 10:30am Main Worship
Wednesday 6:30pm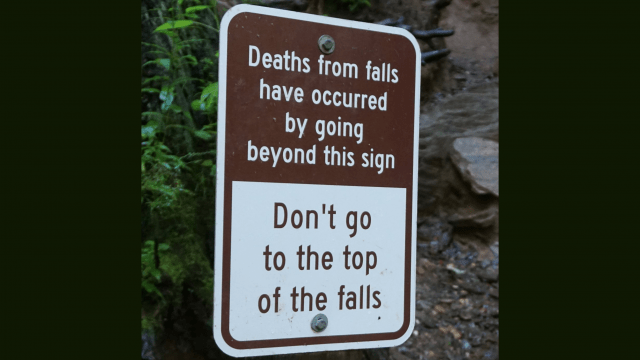 Take Heed – Warning Signs

We hiked a mile in to Moores Cove Falls in North Carolina recently. As we arrived at the falls, we realized our kids had ventured and climbed above the falls.  Not a big deal at first to us, until we saw the warning sign.  "Don't go to the top of the falls."  "Deaths from falls have occurred by gong beyond this sign."  OH!  We were relieved as our kids came down from the trail from above the falls unscathed and healthy.  It was a slight scare for us, but also an interesting metaphor for this pastor.
We are reminded time and again in God's Word that when we heed God's "instruction & warning signs" we benefit.  When ignoring his warnings, we suffer the consequences.
God tells us in 1 Timothy, "Take heed unto thyself, and unto the doctrine; continue in them: for in doing this thou shalt both save thyself, and them that hear thee." 1Timothy 4:16 – Be careful about what you believe.
We also find in 1 Corinthians:
"According to the grace of God which is given unto me, as a wise master builder, I have laid the foundation, and another builds thereon. But let every man take heed how he builds thereupon." 1Corinthians 3:10 – Be Careful about how you build.
"Wherefore let him that thinks he stands take heed lest he fall." 1Corinthians 10:12 – Be careful about your posture.
I pray you are responsive to God's signs this week, Pastor Larry
Please visit our website, and visit, like, and follow our Facebook Page at: