Phone: 941-488-1551
Email: cbcvenice@yahoo.com
Service Times:
Sunday 9:30am Bible Fellowship
Sunday 10:30am Main Worship
Wednesday 6:30pm
Our Cornerstone is Jesus Christ!
Welcome!  May God bless you today!

Thanks for stopping by!

Our desire is to point the way to a meaningful relationship with God for every person.

We have a genuine concern in sharing the Good News of Salvation

by grace through faith in Jesus Christ. 

We are "A church where each person is cared for".

Please Join Us This Sunday to Celebrate Jesus Christ our God and Savior.
NOTE: Holiday Meeting Times May differ from normal service times
*April 21st – 6:45am Sunrise Service at 1000 South Casey Key (near North Jetty).
*April 21st – 8:00am Easter Breakfast @ 315 US 41 Bypass S. (@Church).
*April 21st – No Sunday School
*April 21st – 10:00am Easter Resurrection Worship Service
Sundays:
Bible Fellowship (All Ages) – 9:30am
Main Worship Service – 10:30am
Children's Church – 11:00am  
Wednesdays:
Bible Study / Prayer – 6:30pm
Kings Kids – 6:30pm
Regeneration Teens – 6:30pm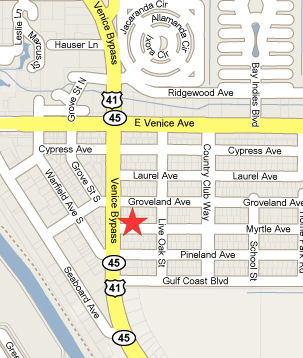 Join us April 21st to worship
Our Risen Savior
The King Of Kings
The Lamb of God
God With Us
Jesus Christ
Our Redeemer
Lord of Lords
Lion of Judah
The Alpha & Omega
Chief Cornerstone
Good Shepherd
The Messiah
The Way
The Truth
The Life
The Word of God
at 10:30am!