Phone: 941-488-1551
Email: cbcvenice@yahoo.com
Service Times:
Sunday 9:30am Bible Fellowship
Sunday 10:30am Main Worship
Wednesday 6:30pm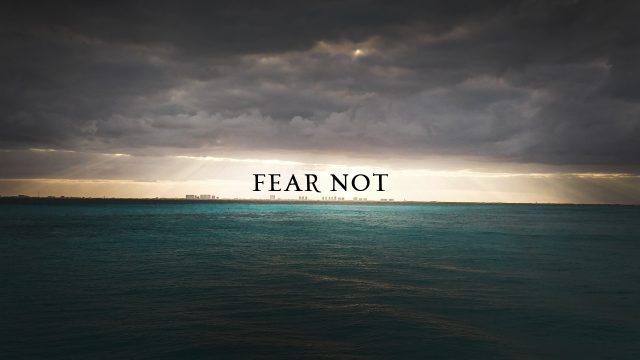 Reason & Explanation of "Fear Not"
Five-year old Johnny was in the kitchen as his mother made supper. She asked him to go into the pantry and get her a can of tomato soup, but he didn't want to go in alone. "It's dark in there, and I'm scared." She asked again, and he persisted. Finally she said, "It's OK–Jesus will be in there with you." Johnny walked hesitantly to the door and slowly opened it. He peeked inside, saw it was dark, and started to leave when all at once an idea came. He said, "Jesus, if you're in there, would you hand me that can of tomato soup?"
The Bible is replete (hundreds of verses) with Scripture declaring (in one way or another) that we should FEAR NOT. That's all well and good but, I don't know about you, telling me not to fear sure doesn't help me not to fear. That's like telling a bird not to fly or dog not to bark. Fear and anxiety are natural to our flesh. If it weren't so, He wouldn't have to continually remind us to FEAR NOT!
That's the bad news. Here's the good news. Included with every Scripture admonishing us to FEAR NOT is the reason why not. None leaves us wondering how we are to deal with our fears. Each one gives us the key. Can you guess what it is? Yep, you are right!
"Fear not, for I am with you; be not dismayed, for I am your God; I will strengthen you, I will help you, I will uphold you with my righteous right hand." (Isaiah 41:10)
"The LORD is my light and my salvation; whom shall I fear? The Lord is the stronghold of my life; of whom shall I be afraid?" (Psalm 27:1)
"Even though I walk through the valley of the shadow of death, I will fear no evil, for you are with me; your rod and your staff, they comfort me." (Psalm 23:4)
That's it, that's the key! The strength to overcome the fears of the world, the fears of these present circumstances, comes only from the Lord, God Almighty. ""Not by might nor by power, but by My Spirit,' says the Lord Almighty." (Zech. 4:6) "For God gave us a spirit not of fear but of power and love and self-control." (2 Tim 1:7)
Christian, not fear…FAITH! Be silent, you have found favor with God. He will fight for you; He will sustain you; He is your shield; He will not leave you or forsake you; He who is in you is greater than he who is in the world! Believer, whatever is true, whatever is honorable, whatever is just, whatever is pure, whatever is lovely, whatever is commendable, if there is any excellence, if there is anything worthy of praise, think about these things (Phil. 4:8) and FEAR NOT! 
Praying for you all in His confidence, Pastor Larry
Please visit our website, and visit, like, and follow our Facebook Page at: