Phone: 941-488-1551
Email: cbcvenice@yahoo.com
Service Times:
Sunday 9:30am Bible Fellowship
Sunday 10:30am Main Worship
Wednesday 6:30pm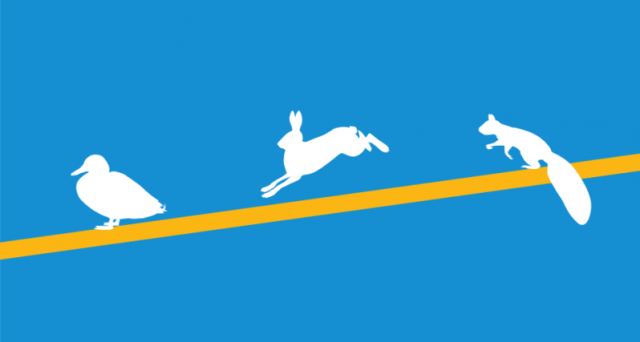 PARABLE OF DUCK, SQUIRREL, & RABBIT
(Teaching Us To Focus On Our Gifts)
God does not expect us to be what we are not designed to be or to do what we are not gifted to do. Every Christian is wired differently.
Charles Swindoll illustrates this point with an interesting parable: "The Springfield, Oregon, Public Schools newsletter published an article that told about a group of animals that decided that they should do something meaningful to meet the problems of a new world. So they organized a school. They adopted a curriculum of running, climbing, swimming, and flying. To make it easier to administer the curriculum, all the animals took all the subjects.
The duck was excellent in swimming but he only made passing grades in flying, and was very poor in running. Since he was so slow in running, he had to drop swimming and stay after school to practice running. This caused his webbed feet to be badly worn, so that he only averaged in swimming.
The rabbit started at the top of the class in running, but developed a nervous twitch in his leg muscles because of so much make-up work in swimming.
The squirrel was excellent in climbing, but he encountered constant frustration in flying class because his teacher made him start from the ground instead of the treetop down. He developed charley horses from overexertion, and so only got a C in climbing and a D in running."
"Now there are different gifts, but the same Spirit. There are different ministries, but the same Lord. And there are different activities, but the same God is active in everyone and everything. A manifestation of the Spirit is given to each person to produce what is beneficial:" 1Corinthians 12:4-7
May we honor our great Creator using these gifts He's given, Pastor Larry
Please visit our website, and visit, like, and follow our Facebook Page at: