Phone: 941-488-1551
Email: cbcvenice@yahoo.com
Service Times:
Sunday 9:30am Bible Fellowship
Sunday 10:30am Main Worship
Wednesday 6:30pm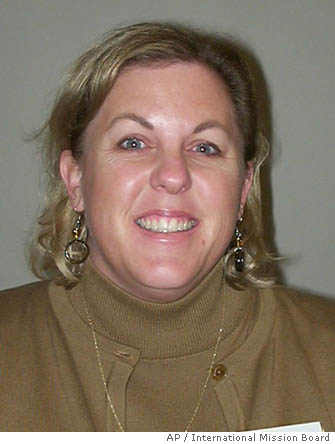 The Missionary Heart

This letter was written by Southern Baptist Missionary to Iraq, Karen Watson, prior to leaving for the Middle East. The letter was dated March 7, 2003. Karen was killed, along with four other missionaries, on March 15, 2004.
Dear Pastor Phil and Pastor Roger:

You should only be opening this letter in the event of my death. When God calls there are no regrets. I tried to share my heart with you as much as possible, my heart for the nations. I wasn't called to a place. I was called to Him. To obey was my objective, to suffer was expected, His glory my reward.

I thank you all so much for your prayers and support. Surely your reward in Heaven will be great. Thank you for investing in my life and spiritual well-being. Keep sending missionaries out. Keep raising up fine young pastors.

In regards to any service, keep it small and simple. Yes, simply, just preach the gospel….Be bold and preach the life-saving, life-changing, forever-eternal gospel. Give glory and honor to our Father.

The Missionary Heart:

Care more than some think is wise.

Risk more than some think is safe.

Dream more than some think is practical.

Expect more than some think is possible.

I was called not to comfort or success but to obedience….There is no joy outside of knowing Jesus and serving him. I love you two and my church family.

In his care, Karen  
Karen exemplified Romans 12:1-2 in her life, "I beseech you therefore, brethren, by the mercies of God, that ye present your bodies a living sacrifice, holy, acceptable unto God, which is your reasonable service.  And be not conformed to this world: but be ye transformed by the renewing of your mind, that ye may prove what is that good, and acceptable, and perfect, will of God."
Know Jesus; Love Jesus & Serve Him, Pastor Larry
Please visit our website, and visit, like, and follow our Facebook Page at: