Phone: 941-488-1551
Email: cbcvenice@yahoo.com
Service Times:
Sunday 9:30am Bible Fellowship
Sunday 10:30am Main Worship
Wednesday 6:30pm
Loss & Gain
Dear Church, We lost two wonderful Christians this past week.  Many of you know that Betty Kasten & Fred Byrd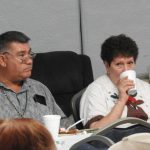 went home to be with Jesus.  It was shocking and tragic, yet we take comfort knowing they are with our Savior Jesus and we shall see them in eternity (Their Gain).  May we pray for their family & friends today and through the week. 
Please pray for two of our missionary families: the Simcox & Miller families.  They experienced loss this week too.
#1 From Tom Simcox (FOI) July 19th 2021:
This morning the Lord called my wonderful mom, Vera Bowker, home to heaven. She has fought her good fight and she has finished her course. We miss her terribly, but rejoice that her absence from our lives is that she is present with her beloved Lord. We sorrow, but not as others who have not hope.
#2 From Amy Miller Santoso (New Zealand) July22, 2021:
The world lost one of the best daddy's ever!!! Until we see each other again on heavens golden shore. You will be forever missed!!!
May we take comfort from God's Word: "Precious in the sight of the LORD is the death of his saints." Psalm 116:15 
"But I trusted in thee, O LORD: I said, Thou art my God. My times are in thy hand:" Psalm 31:14,15a 
"God be merciful unto us and bless us; and cause his face to shine upon us; Selah.  That thy way may be known upon earth, thy saving health among all nations." Psalm 67:1,2
May we all remember that "Our times are in God's hand" and He has a mission for all of us until our final breath is taken, Pastor Larry
Please visit our website, and visit, like, and follow our Facebook Page at: