Phone: 941-488-1551
Email: cbcvenice@yahoo.com
Service Times:
Sunday 9:30am Bible Fellowship
Sunday 10:30am Main Worship
Wednesday 6:30pm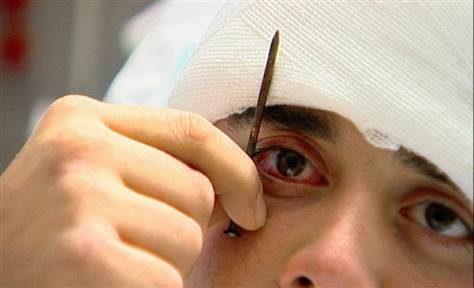 Finding The Remedy

Construction worker Patrick Lawler thought he had a toothache. For almost a week, he tried painkillers and ice packs to reduce the swelling. When nothing he did brought relief, he finally went to the dental office where his wife works. Only after the dentist took an x-ray did Patrick learn the true source of the toothache. He had a four-inch nail in his head.
When the dentists reported their discovery to Patrick's wife, she thought they were joking. But the x-ray revealed the truth. The nail had entered through his mouth, just missing Patrick's right eye.
The incident occurred six days earlier. Patrick was working with a nail gun that backfired. Although one of the nails shot into his mouth and embedded itself, Patrick didn't realize it. He merely complained of a toothache and blurry vision, and even tried ice cream to soothe the pain.
After the nail was discovered, surgeons at a Denver hospital successfully removed it through four hours of surgery. Although it is a "pretty rare injury," one neurosurgeon admitted, "this is the second one we've seen in this hospital where the person was injured by the nail gun and didn't actually realize the nail had been embedded in their skull."
A wrong diagnosis only leads to a wrong remedy. In the spiritual realm, unless we recognize the deadly reality of sin, we will never turn to the only solution, which is found in Christ.
MAN'S PROBLEM, UNREALIZED BY MANY, IS SIN…
Have you invited the Healer (Jesus) cure you? Pastor Larry
Please visit our website, and visit, like, and follow our Facebook Page at: