Phone: 941-488-1551
Email: cbcvenice@yahoo.com
Service Times:
Sunday 9:30am Bible Fellowship
Sunday 10:30am Main Worship
Wednesday 6:30pm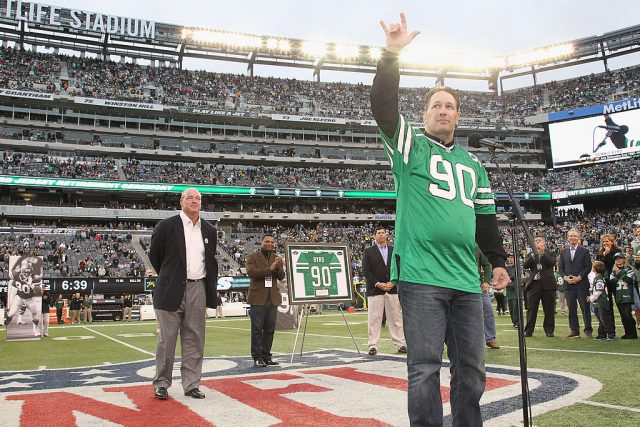 Faith & Football

NY JETS DENNIS BYRD: 
DESTROYED CAREER AFTER PARALYSIS BUT NOT DESTROYED LIFE
Dennis Byrd was a professional football player. As an up-and-coming defensive superstar for the New York Jets, he was predicted to help turn the Jets organization around. Then tragedy struck.
On November 29, 1992, the Jets were playing the Chiefs. Dennis was about to sack the quarterback when he collided with a teammate and his spinal cord was snapped. In a split-second, his football career ended. He was paralyzed from the neck down. Everything he had planned for his life came to a screeching halt.
Later, he wrote about waking up in the middle of the night at Lenox Hospital in a halo brace, not knowing where he was, not knowing why he couldn't move, not knowing what was happening. Suddenly, he went from dreaming of making it to the Pro Bowl to hoping he could someday hold his daughter in his arms again.
From a worldly perspective, Dennis was no longer able to reach his potential. But in God's eyes, Dennis Byrd is capable of much more than sacking quarterbacks. In God's eyes, Dennis Byrd is capable of giving him glory, and Dennis has done that in a tremendous way.
The world watched and listened as Dennis Byrd told the media that Christ was his source of comfort in his time of tragedy. The doctors announced to the media that Dennis may never walk again, and it would be years before they would know. Dennis told the media that with God's help, he would walk again—soon.
On opening day of the 1993 football season, less than a year after the tragic collision, millions of television viewers watched Dennis Byrd walk out to the middle of the Meadowlands Stadium while 75,000 fans stood cheering in ovation. The miracle in Dennis Byrd's life is not that he broke his neck and walked again. The miracle is that the injury that destroyed his career didn't destroy his life.
No matter what – in God's eyes we have great potential, Pastor Larry
Please visit our website, and visit, like, and follow our Facebook Page at: