Phone: 941-488-1551
Email: cbcvenice@yahoo.com
Service Times:
Sunday 9:30am Bible Fellowship
Sunday 10:30am Main Worship
Wednesday 6:30pm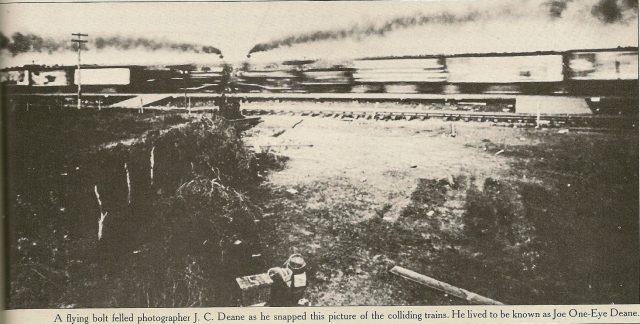 CRUSHED

Recently I read a story about two steam engine trains purposely aimed at each other to crash & crush into each other.  Yes, you read that correctly.  In 1894 railway agent William Crush came up with the idea of smashing two trains together purely for public spectacle.  So, in September 1896, Crush, a passenger agent for the Missouri-Kansas-Texas Railroad Company—more commonly known as the Katy—cooked up the ultimate crowd-pleaser: a gladiatorial battle. Two 35-ton locomotives  would ram into each other in "Crush," a pop-up town erected for the occasion and named after the architect himself.
A line of track was laid 15 miles north of Waco, just beyond the natural amphitheater of three tall hills. A.D. Arbegast stated "[This] is going to be the event in Texas this year."  There was so much attention given to this occasion that they had to delay so that a late arriving train of passengers would be able to witness.  All in all there were some 40,000 spectators on this September 15th day.
At 5:10, Crush himself came riding in on a white horse and waved his hat, giving the signal for the trains to start. The engineers and conductors onboard each behemoth got the trains moving, then jumped to safety about 30 yards from the starting point. As the two engines approached, they reached speeds of 50 mph, carrying a row of empty boxcars behind them. Their collision was every bit as astonishing as predicted—but it quickly turned violent.  A crash, sound of timbers rent and torn, and then a shower of splinters. There was just a swift instant of silence, and then, as if controlled by a single impulse, both boilers exploded simultaneously and the air was filled with flying missiles of iron and steel varying in size from a postage stamp to half a driving wheel, falling indiscriminately on the just and unjust, the rich and the poor, the great and the small."  You can read more of this story at:  https://en.wikipedia.org/wiki/Crash_at_Crush or view:
https://www.youtube.com/watch?v=xNGGuxMEtQU
As the steam engines were completely crushed and demolished, so we trust that our Savior has conquered our enemy the devil.  Yes, Jesus was placed in a tomb as crushed and dead, but 3-days later He rose alive & victorious!
I am so glad that Genesis 3:15 is proven true.  We have this promise in Romans 16:20, " The God of peace will soon crush Satan under your feet. The grace of our Lord Jesus Christ be with you."
Our foe is defeated and Christ has won our victory!  PTL, Pastor Larry
Please visit our website, and visit, like, and follow our Facebook Page at: