Phone: 941-488-1551
Email: cbcvenice@yahoo.com
Service Times:
Sunday 9:30am Bible Fellowship
Sunday 10:30am Main Worship
Wednesday 6:30pm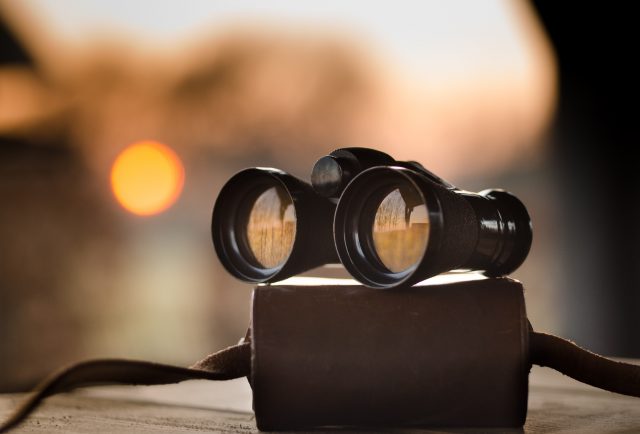 2020 Vision
While appreciating the beautiful day God gave us last Monday, I stared out over a pond and witnessed a man with binoculars cautiously moving forward toward some trees. He was crouched down and doing his best to make sure he could sneak up on whatever creature(s) he was trying to get a closer look at. After a few moments of this I observed him get his binoculars up and he was definitely targeted in on his "prey". It was pretty obvious to me he was thoroughly enjoying his bird watching.
This prompted me to think about what I have in "my view" physically & spiritually. What is it that I am watching for? There are three passages that stick out to me that I believe are vital for our Christian lives when we are instructed to fix our eyes in a certain way. We find in 1 Thessalonians chapter 5, "But ye, brethren, are not in darkness, that that day should overtake you as a thief. Ye are all the children of light, and the children of the day: we are not of the night, nor of darkness. Therefore let us not sleep, as do others; but let us watch and be sober." 1Thess. 5:4-6
Also, in Hebrews 12, "Looking unto Jesus the author and finisher of our faith; who for the joy that was set before him endured the cross, despising the shame, and is set down at the right hand of the throne of God. Hebrews 12:2
And lastly in Titus 2, "For the grace of God that brings salvation hath appeared to all men, Teaching us that, denying ungodliness and worldly lusts, we should live soberly, righteously, and godly, in this present world; Looking for that blessed hope, and the glorious appearing of the great God and our Savior Jesus Christ; " Titus 2:11-13
May our spiritual eyes be fixed with God's 2020 vision,
Pastor Larry
Please visit our website, and visit, like, and follow our Facebook Page at: